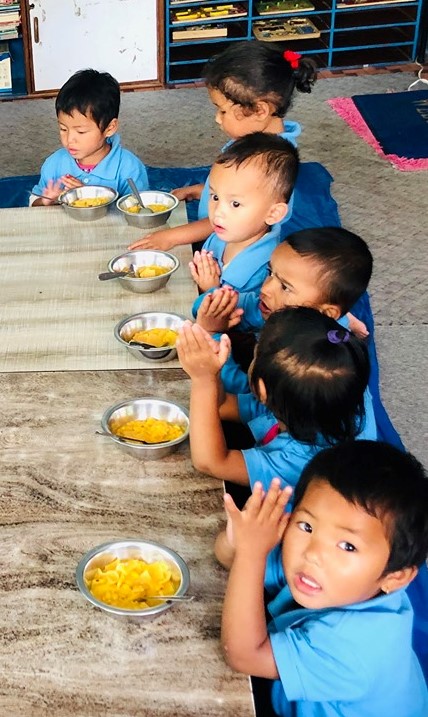 WHAT WAS NEW in 2019?
 Since the opening of the new center we now have a 2nd garden: Part of the land around the New Centre has been converted into a vegetable garden. The production is used to prepare lunch for Daycare students and the MAYAA staff. The local team has started to recycle dried corn leaves into organic mats.
Both gardens have been able to operate successfully thanks to MAITE Foundation support. https://don.fondationcaritasfrance.org/fondation-maite
 What we already do:
In order to tackle hunger, malnutrition and growth issues, MAYAA has been running a vegetable garden near MAHANKHAL School since 2018.
In 2019, MAYAA has been providing farming supplies, fertilizers, seeds, and bringing the support of an agricultural specialist to produce vegetables near one of the poorest school in the Kathmandu Valley.  The farming is done by students and teachers, so that they can support themselves in the future.
A canteen room was constructed and furbished in 2018 by MAYAA. The seasonal harvest from the farm is used to provide daily healthy meals for 123 students nearly free of charge. The association bears the costs when the families can't afford the price of the meal.